In 1996 I was ashamed of a lot of my choices up to that moment in time. I spoke to a good friend about the Military and he introduced me to my Recruiter. After talking to many other recruiters I decided to stay with the Army as a Tanker (19K). Once I got through MEPS I was off to Boot Camp in July of 1996. Boot Camp was no joke specially being the first person to dehydrate. However, like everything in life I took that as a challenge and worked on my conditioning every day. Boot Camp was amazing and I took everything in like a sponge I excelled in a lot of area's that had to do with team work. As I said before I take everything as a challenge and did so with every team event I was a part of. I felt the need to be bigger, faster, better than anybody else. The two areas' I excelled in without relying on a team was .50 cal and maintaining the outer perimeter of an M1A1 Tank. 
This attribute earned me Squad Leader status with my Drill Sergeants and soon after our latest room inspection where my bed was perfect and all my clothes were folded perfectly gave me Platoon Leader status which in turn gave me two rolls at one time. After a week to a week in a half Drill Sergeant Lockhart played the game well and made me look like a complete idiot as he ripped off both of my gold plated echelons. Just a few weeks later we rolled into Advanced Individual Training (AIT). Once AIT started things got easier due to PX runs and movie time. Finally, October 26th, 1996 rolled around where we graduated and returned to either our home or our new unit depending on our statues. Being in the National Guard I was able to drive my car home once my Dad brought it to me. The trip from Fort Knox, Kentucky to Corsicana, Texas was the most free I remember feeling in my entire life.
November of 1996 was my first time reporting to C Troop 1st / 124 CAV. this is where I found a family I would serve with for a solid 9 years. We did everything from home station drills, simulations, to field training. I was recognized for my hard work and willingness to get the job done no matter what. A group of NCO's noticed how much hunger I had and started working on getting me promoted to Buck Sergeant (E-5). The summer of 2000 I was sent to Louisiana for my NCO course. This was a course that challenged everything I had already learned and pulled me out of my comfort zone more than once. Once finished I was able to return to my Unit where I took on new rolls of leadership and training. Being a part of the CAV. changed my life forever. I learned and trained with some of the best National Guard Soldier's there was. Due to the training we had to endure got me ready for my first tour in 2003. Before I was deployed I was asked to join 4th Tank out of Austin for my promotion to E-6. 4th Tank was deploying and I already knew my original unit was about to deploy. I decided to turn down my promotion due to the amount of trust I had in my unit. November of 2003 we got ready for Fort Dykes were we trained up to mid December. Once our training was done we had to take a flight to Kuwait where we got to experience some of the stress and hard times other Soldier's had endured. Once we left Kuwait we were in Country also known as the Sand Box. This is where I learned how to lean on fellow soldier's and back them up. We got to experience everything movies where made of. I started off leading a squad while we pulled guard duty. Then around March we started convoy duty. I was able to fill the rolls of Driver, Gunner and Truck Commander. Around April I was given the opportunity to join the PSD (Personal Security Detail). This opened my eyes to a lot of stuff that I wouldn't have even imagined. Our convoys lasted 10 hours or more. I took my position as driver very seriously in doing that the Battalion Commander asked if I would be her driver. After talking to my team I made the decision to join her. December of 2004 we had a company meeting not all at once but one platoon at a time. It was time for us to start prepping for our replacements. November was around the corner and we had another company meeting letting us know that a bus with our replacements rolled over on the way to the airport. Those of us that pray did so for the unit that was hurt. Once our new replacements made it to our camp and did their right seat ride. We were able to return home by March 2015.
Serving my time in Iraq from 2004-2005, I was asked to join the Egypt Mission by the 1SG. I jumped on board for that and had the privilege of being a life guard. In 2006 as a Life Guard in Egypt I learned how to relax more and how to socialize better. I had the privilege in helping the Fijians (iTaukei) learn how to be Life Guards. It was a bit of a struggle since they didn't know English and we didn't know Fijian. We trained them with pictures and demonstrations. After, they graduated they went back to North Camp in Egypt where we were told they saved two people from drowning. Herb (our manager) told us the Fijians gave us the honors for the saves they made. Being a life guard had its bad days but mostly good days. We had to swim almost every morning looking for sharks. As long as we had a canoe following us sharks would leave us alone for the most part. A shark will look at the bottom of the canoe as a big fish. As life guards we had to run and workout every day except for our day off. I got to where I was running several miles a day and swimming at least one mile a day. In 2007 at the end of our tour I swam a total of about 215 miles for that year.
Mid summer of 2007 I decided to leave the Cav. and joined 136th MP Battalion where I filled the roll of Squad Leader. I helped with tactical training and classroom instructions. In the fall of 2007 I was told I was joining A 636 BSB and that they were about to be activated. I don't remember much of my last tour. However, I do remember training here in the states to prep for our upcoming mission. Things were laid out for us on a daily bases. Once our platoons were formed we started building our relationships. Once we landed in Kuwait we were able to train on the vehicles we would be driving in the sand box. I was always the guy that would put up with whoever and whatever came my way. However, I was not expecting SPC McCarthy and SPC Hernandez. I believe I told them when they joined my team that I never wanted to work with women in country. They soon changed my mind. SPC McCarthy was that one lady that really loved to be independent and she come across as a hard head from time to time. She wasn't easily fooled and when she was she would laugh it off. As Truck Commander I did my best to answer any questions either one of my teammates had. SPC McCarthy proved herself over and over again by maintaining her equipment to the best of her ability and not causing any issues outside of duty time. SPC Hernandez was a little different she didn't care what anyone said about her and had a certain hunger in her eyes for knowledge and the willingness to advance. I remember telling her to wake up early and prep our vehicle since she was our driver. She thought I was joking and I knew it. Still being new to working with women I decided to get up early and prep our vehicle for convoy so we wouldn't have any hiccups. SPC Hernandez was upset that I did her job and honestly felt offended. This was an eye opener for me and a good one at that. I do have a change of heart about women serving as long as they keep it professional as SPC Hernandez and SPC McCarthy did with me. On Feb 18th, 2009 I was in a roll over which almost took my life three times. I don't remember anything for about 4 days except for random flashes and some small conversations. I was told that we had to get over due to civilian traffic which was ok. Until, the Iraqi Police pushed through. This forced my driver over even more and for a driver not knowing a vehicle very well she fell off the edge of the road which I was told had a 6" drop. My Medic suffered a crushed thigh, my gunner barely escaping decapitation by flying about 20 yards from the vehicle, and my driver watched me as I was sucked out of the door. Once I hit the ground I was completely out. Apparently, I was crushed by the 700 lb door of an MRAP giving me a cracked hip, lacerated liver, collapsed lung, and moderate brain damage. My parents were called three times to come and tell me goodbye. Every time I somehow pulled through and they were told to stand down. My flight from Iraq to Germany was amazing since I was heading to Germany for brain surgery due to a hole on the inside of my head. Once I landed I was told that another MRI was done and the hole in my head had cleared up and there was no need for surgery. After that I woke up again on the plane ride to BAMC in Texas. I was in some serious pain and a nurse leaned over me and said "I am going to be your best friend" as she injected me with 7cc's of morphine. I then woke up in San Antonio and was given a room where I prayed nearly every day until I could walk again. I was done with anything negative in my life and asked the Lord to help me find a new life. Well my prayers were answered after turning down other possibilities for a relationship I decided to get on eHarmony where I found my wife. She has been a huge blessing to me and our baby boy.
Finding out how hard it was for me to keep a job. My mind started wondering as I spoke to fellow Veterans at the VA and seeing people with signs on the side of the road that said "Vet struggling please help". I am not a person that will give money to people on the streets however I will give them food. Then it occurred to me. Since I have such an issue with this then maybe I should try and fix it. This is how OATH was born. I have been blessed with some very intelligent Board Members and we will strive to protect and lift up every Veteran that crosses our path.
If you have any questions, please feel free to email me.
My name is Joseph "Joe" Amodio.  I served in the US Army and the Texas National Guard (TXARNG) for 27 years in many capacities from logistics to combat arms, as a Private all the way up to the rank of Master Sergeant in positions equal to the rank and sometimes above my given rank.  As a Regular Army Soldier from 1986 to 1991, I served as a 57F (Graves and Registration) in Wiesbaden FRG 87-89 and Ft Ord CA 89-91. In 1990 I was deployed to Operation Desert Storm (ODS) with the 8th Evacuation Hospital and operated there just outside of the King Fahad Int. Airport and the 101st Camp Eagle, where our operations were Key in sustaining battlefield injured troops for transport to Germany and the US.  32 days after returning from ODS, I ended my contract with the regular Army and returned home to Houston TX and to my job with Continental Airlines.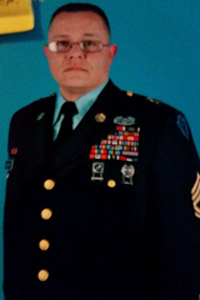 After a year away from the Army, I found myself losing control, becoming disconnected and depressed, and drinking and acting out in ways that were not like the soldier that I was.  My friend, Johnny Newcomb, who deployed with me to ODS, had also ended his contract with the regular Army but he had joined the TXARNG.  He told me that he was worried about me, and that I needed to get my stuff straight.  He invited me to attend a drill with him.  A month later I was enlisted in the TXARNG and attended MOSQ for 19K M! Tank Crew Member.  A year later I was assessed into the Active Guard and Reserve Program (AGR) as a Division Retention NCO.  I served in Delta Co 4-112 AR as a 19K Tank Gunner, and learned so much from my time there that I decided to branch out and change my MOS yet again.  I decided that 19D US Army Cavalry Scout would be interesting, but little did I know that 19D would take hold of my heart and soul and become part of my very being.
I was inducted into a brotherhood the day I was accepted into the detachment, one I thought I already belonged to but had no idea how much deeper this one went.  After a couple of years serving in the detachment, I took a position with A Troop 1st Squadron 124th Cavalry Regiment in Waco, Texas – a true Regiment with historical roots back to the Mexican wars, the honor of being the last MOUNTED Cavalry Regiment, and so much more.  I was with the squadron about a year when we received the call from division to put together a troop to send to Iraq for a special detail mission.  We tasked 187 men from the squadron for the mission, and I received permission to leave my AGR position (it was against regulations at that time to do so without special permission) and deploy with my Guard Unit.  I was assigned as a Team Leader and Gun Truck Commander in 3rd Platoon.  We saw more action in Iraq than most platoons as the NCO's in our platoon were very strong willed, resourceful, and knowledgeable about combat and tactics.  Alpha Troop served in Iraq with extreme distinction.  We were known throughout theater as those guys from Texas or as THE CAV, and NO, NOT 1st CAV!  Upon returning from Iraq in 2005, I felt myself suffering from PTSD-like symptoms.  I was quick to anger, aggressive, hyper vigilant, didn't sleep, and I MISSED COMBAT!  My squadron came up for a mission to Egypt Multi Force Observers (MFO).  I volunteered immediately and secured my position as the Convoy and Security NCOIC, responsible for all route reconnaissance, surveillance, and security as well as all convoy security. The MFO Egypt Mission went off without a hitch, except at the end I began to suffer from anxiety and sleep deprivation, and I could not deal with the locals that worked in our camp in a civil manner.  When we returned to the US, I admitted myself to the hospital for a 72 hour watch because I didn't know what I was feeling and couldn't make a coherent decision.  After I was released, I started counseling weekly for about 4 months and I thought I was doing well, though it was unconfirmed.  Then my squadron was called back up to go to Iraq once again to take over operations in Baghdad.
I left less than six months later and was back in the hate and discontent of Iraq where I felt comfortable with my troops and my mission, serving with 127 troops in my platoon, owning 6 entry control points, and providing 24 hour security and presence patrols for two separate villages as well as "SPECIAL MISSIONS" with 5th Special Forces Group.  We were quite busy and gladly so.  In December, I was injured at a checkpoint and suffered from that injury for two months with my senior medic treating me with trigger point shots and other things until I woke up and did not have the strength to pull the trigger with my shooting finger.
I was medevac'd to Germany where it was determined that I had a cervical break as well as a lumbar break and would not be returning to Iraq.  I was devastated, but had to focus on healing.  I was assigned to Ft. Sam Army Hospital for recovery and was attending a briefing one day when I heard someone saying my name "SGT. AMODIO" over and over.  I looked up at one point and saw an emaciated kid in front of me, and he looked somewhat familiar but not enough to recognize right away but a little.  Well he stepped forward and said, "Hey SGT Amodio.  It's me KYE, KYE WHITE from the CAV!"  I was like, "Holy crap, man!  What the hell happened to you, bro?"  He told me his story and asked what happened to me, so I told him my story.  We just hung like we hadn't missed a day since last time we had seen one another, when in fact it had been almost a year.
After returning home from the hospital at Ft. Sam, Kye was medically retired.  I got the Army to return me to full duty and had not seen Kye in over 4 years when he called me one day and asked if I had a minute to talk.  Kye told me about his dream, OATH, and how it hit him.  I could hear it in his voice that this was something that was fierce in his heart.  When he asked if I would consider being an advisor to this organization, I was a little leery.  I do not consider myself the kind of person that you would want advising you on much other than taking over a village in a hostile country or setting up good security and surveillance positions in combat.  I asked Kye if he was sure he wanted me for that, and he said yes and explained to me why.  It kind of made me feel weird.  I never think of myself in those terms, but I would not let him down.  If it was his dream, I would do what I could to make it come true for him.
Every member of the Organization are brothers from Alpha Troop 1-124 Cav.  We have all served under fire together, in fear together.  We have all watched each other's backs, and we complement one another.
Kye is the kind nurturer.  James is the understanding, but hard father type.  Andy is the quiet, but ready to act at the drop of a hat guy.  Clark is the funny, smart, and reliable friend who will set you straight when you need it.  I am the guy that is hard all the time.  I can see the good and the bad in people and situations, and I will always be the one to sway the team to be cautious and defensive.  I am the protector of my brothers.  No one will ever hurt one of you in any way if I call you BROTHER!
Joe Amodio
19Z8D
MSG USA (RET)
Design by: Blu Dragonfly LLC